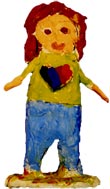 The mission of the Proactive Educational Assistance program is to identify signs of risk for learning differences; to provide referrals for diagnostic evaluations; to support the educators and families of children with learning differences and to provide individualized intervention programs for students diagnosed with different neurodevelopmental profiles.


The program is based on the research of the Dr. Melvin Levine, Professor of Pediatrics and the Director of the Clinical Center for the Study of Development and Learning at the University of North Carolina School of Medicine.

Services include individualized tutorial programs and private consultations with schools and families.